Major Achievements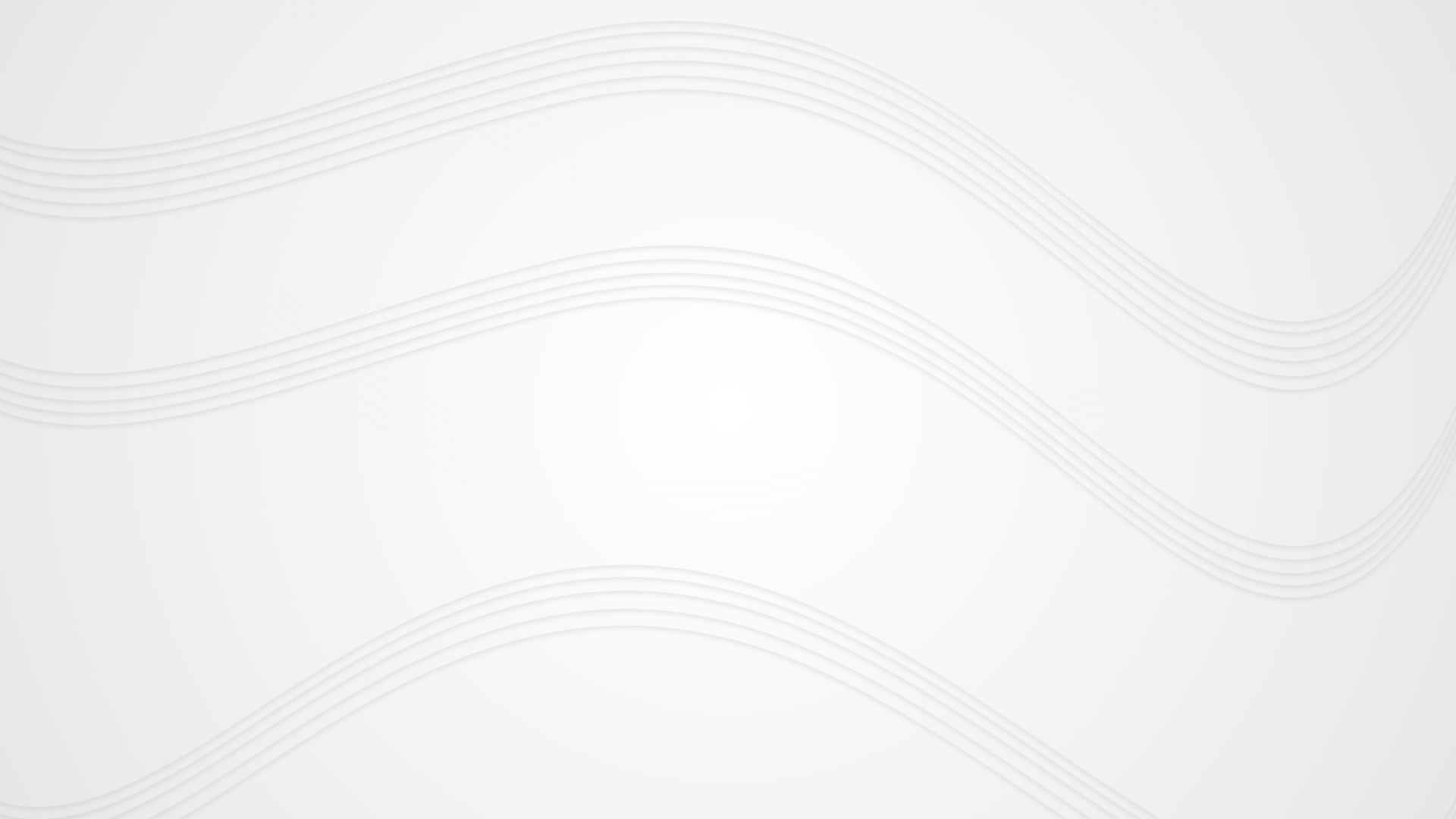 Established world class met-ocean data buoys for Kuwait EPA. Burgan equipment co. Won one of the major projects in Kuwait during 2015-16 for design, supply, commissioning and three-year maintenance of met ocean data buoys for Kuwait marine environment.
Buoy network for marine pollution monitoring and early warning applications in Arabian gulf.
Burgan equipment co. Was awarded the project by environment public authority of Kuwait (EPA-Kuwait) through their official tendering for establishment of 15 nos. Data buoys system for monitoring of meteorological, oceanographic and water quality data in near-shore and offshore regions of Kuwait. The network of data buoys provides critical marine data for long-term deployments and making them a dependable and effective solution for marine monitoring and early warnings.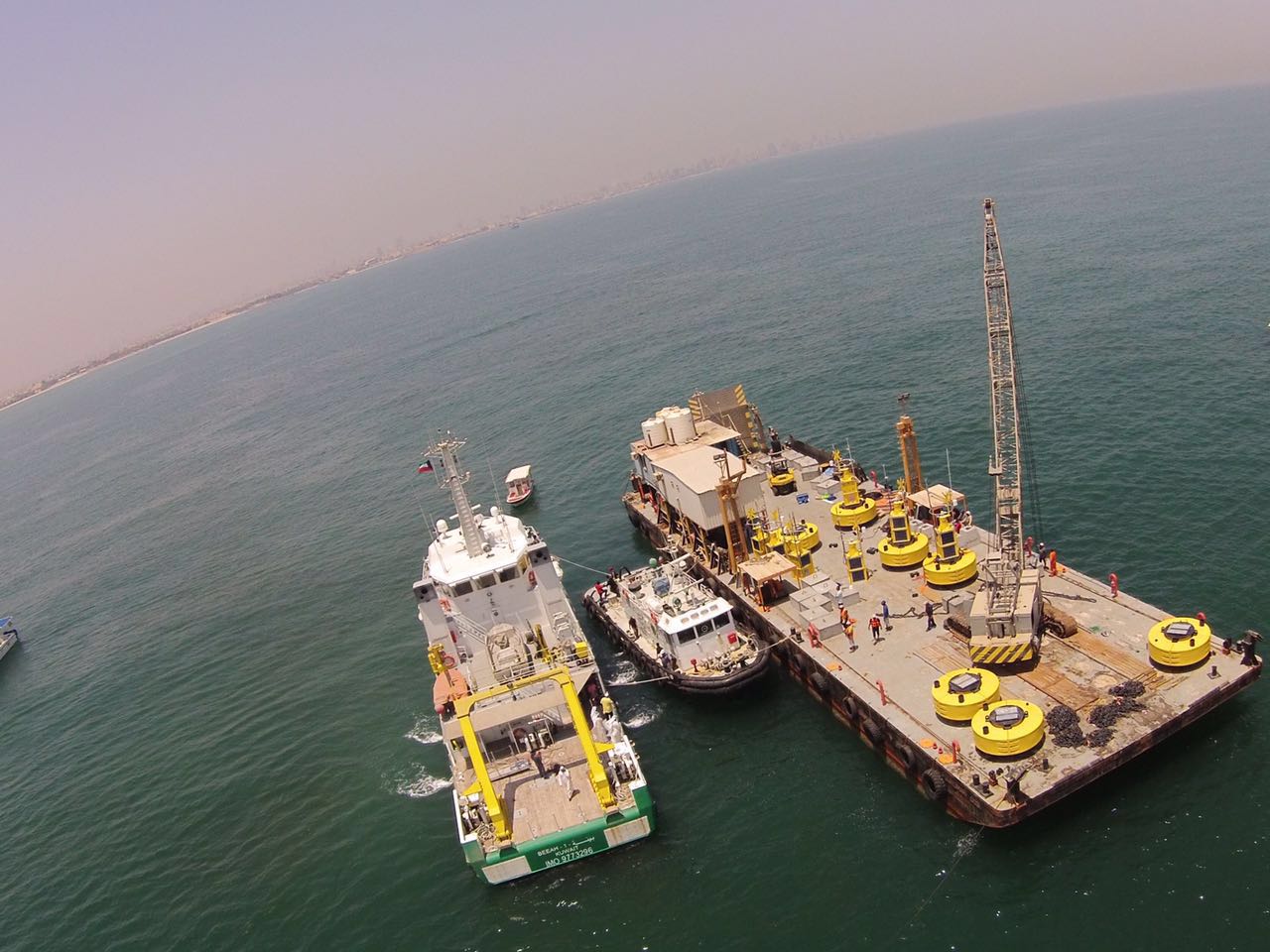 The upper part of the buoy system includes sensors for monitoring meteorological parameters like wind speed and direction, air temperature, humidity, barometric pressure, solar radiation; lower under water part covers oceanographic parameters like tide, current profiles, waves including directional energy spectrum; water quality parameters like conductivity, temperature, salinity, turbidity, dissolved oxygen, ph. The water quality parameters include chlorophyll and blue-green algae as one of the main objective of EPA-Kuwait marine monitoring program is to observe any unnatural change of reproduction and development of the harmful plankton qualitatively and quantitatively via studying the distribution and concentration of chlorophyll and other physical factors.
the sensors and platforms were imported from different parts of the world and integrated in Kuwait. The data buoy package consists of modular system components including sensor package, buoy platform, 3-point mooring package, data logging, solar power pack, intelligent power management, multi-mode telemetry systems. The data buoy system is capable for two-way communication and supports remote diagnostics and maintenance. Microstep MIS developed state of the art data logging and management based on Linux platform, including some of the latest technologies for data encryption at source, and intrusion detection system. The data buoys include ultraviolet based technique for control of biofouling during long-term, in-situ deployments of the water quality sensor package. The UV technology to limit biofouling was used for the first time in middle east areas and found highly successful in limiting the biofouling.
The system deliverables include centralized data collection and management at environmental monitoring information system of Kuwait (E-Misk). The system supports integration of the meteorological, oceanographic and water quality data from the data buoys to the geo-environmental database established by emisk that includes an enterprise level GIS system for access, update and analysis of the environmental data.
The central system includes modules for quality control, analysis, data publishing, alarms and notifications. The central system performs data processing and visualization of the data. Data publication is web based as well as through a custom build mobile application. The real-time as well as historical data and/or early warnings are therefore available for helping decision makers in planning and management of marine environmental protection activities in Kuwait.
The dissolved oxygen depletion in certain areas and fish kills was a huge concern for EPA through the network of buoys they could clearly monitor the dissolved oxygen levels and take preventive measures for containing the water pollution the EPA-Kuwait data buoy program is one of the largest long-term marine data collection program in the Arabian gulf and incorporates some of the latest technologies in marine monitoring. The success of this program will have a huge influence on similar marine monitoring programs in the Arabic gulf for monitoring and providing early warnings and aid during emergency response to marine pollutions and events like fish kill phenomenon and red tides.
Kuwait EPA has shown keen interest in executing the project with highest standards. The project was officially launched Sheikh Ahmad Al Humoud Al Sabah, dg of the EPA and member of the royal family in the presence of dignitaries like Dr. Mohammed al ahmed deputy DG. Mr. Hamza Abbas Karam director water pollution etc.
Kuwait EPA have a separate department E-Misk for data handling and analysis the system is very key in early warning and pollution monitoring in Arabian gulf. Three various departments are closely incorporating in handling and analyzing the data , a separate communication and project management department is set up at EPA marine pollution monitoring department a direct link between E-Misk and pollution department is set up to monitor the data continuously.
A three-way communication system is used with GPRS as primary and radio and satellite as secondary communication assuring 24x7 uninterrupted data flow.
The data is quarterly verified and assessed by external parties through EPA --Ropme and KISR are roped in by the department to provide their feedback quarterly.
Delegations and dignitaries from several countries have shown keen interest to see the system performance several organizations like Qatar EPA, Ropme Etc has visited the site several times and appreciated the work done this project has been one of the main milestones in the history of Burgan Equipment Company.
For more details please contact Mr. Ajith Kumar mobile No. +965 97601637 or by email [email protected]
Project highlights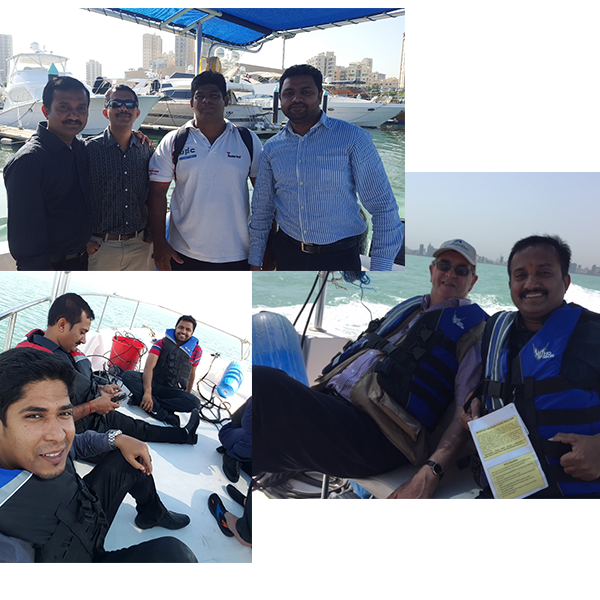 Site survey
Detailed site survey was conducted the major challenges was no bathymetry data or site conditions survey was not done before deciding on the locations. EPA and MOC has selected the locations in such a way to cover the critical areas of Kuwait marine environment from north bordering Iraq, Kuwait bay and the offshore regions bordering Saudi Arabia to provide a complete spatial and temporal coverage of Kuwait waters.
Detailed site survey was conducted the major challenges was no bathymetry data or site conditions survey was not done before deciding on the locations. EPA and MOC has selected the locations in such a way to cover the critical areas of Kuwait marine environment from north bordering Iraq, Kuwait bay and the offshore regions bordering Saudi Arabia to provide a complete spatial and temporal coverage of Kuwait waters.
Detailed site survey was conducted the major challenges was no bathymetry data or site conditions survey was not done before deciding on the locations. EPA and MOC has selected the locations in such a way to cover the critical areas of Kuwait marine environment from north bordering Iraq, Kuwait bay and the offshore regions bordering Saudi Arabia to provide a complete spatial and temporal coverage of Kuwait waters.
Latest to oldest technologies were used for survey and Bathymetry-Teledyne multibeam eco sounders to the normal drop weight with cable were used to check the depth, slit conditions, GPRS coverage etc. Slight changes to locations bordering Saudi was made after consulting MOC.
Site survey was also critical for designing the mooring system for buoys, we have roped one of the best experts for mooring design Mr. Peter Eason a mooring expert based in United Kingdom for designing the mooring systems. He himself visited the site several times, discussed with local experts and divers on seabed conditions. Diving videos photographs, bathymetric data's and buoy design was considered, and a proper mooring design was submitted for approval to EPA.
Mooring design varied from site to site on type of concrete weights and type of shackles and chains been used but a three-point mooring a general was suggested and agreed.
Experts for Microstep, Corilla And Burgan all worked hand in glove to have a design done suiting local conditions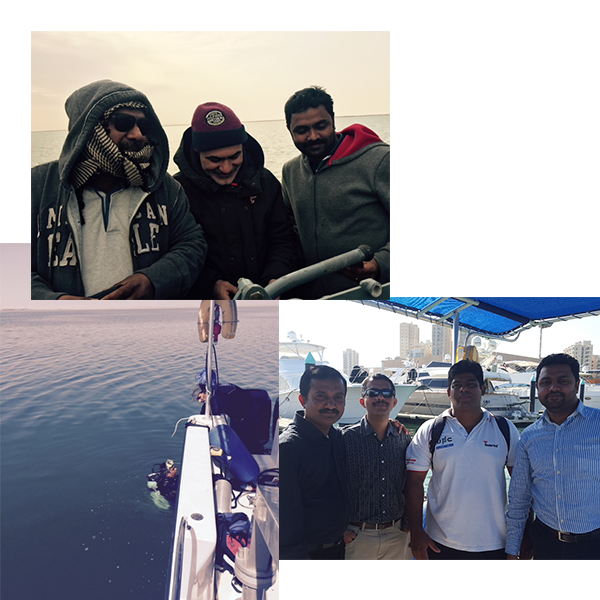 FACTORY ACCEPTANCE TEST

Fat was conducted at Microstep MIS Slovakia, EPA project director Mr. Hamza Abbas Karam, deputy project director Mr. Faizal Boolyan and communication Engineer. Mr. Ahmed Shameri along with project manager from Burgan, Ajith Kumar visited Microstep.
Demo integration of varied system components of the buoys and transfer of data, data encryption at datalogger. Initial test of each individual interface is performed at a basic level to prove data flow from the sensors to the data logging system and transmission to the base station was conducted.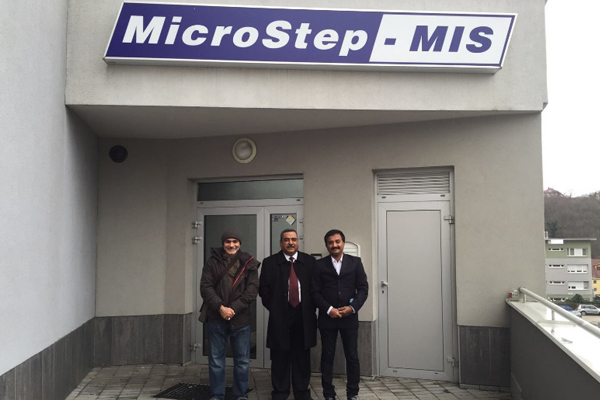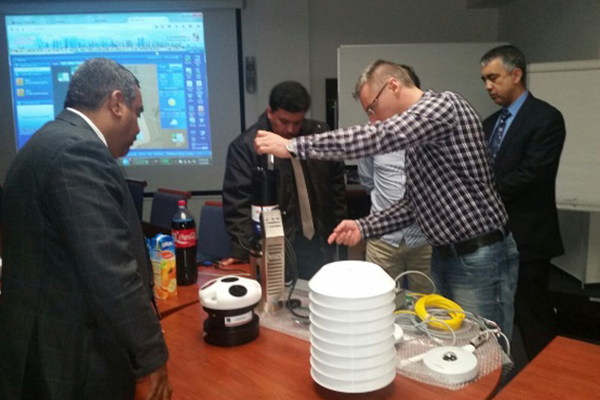 BUOY ASSEMBLY AT BURGAN AMHARA WARE HOUSE.
System components after being imported from different parts of the works Microstep Slovakia, Corilla UK, Nortek Denmark, AML UK, Etc was stored in Anghara.
It took us almost 11 months to store and assemble the buoys in the final stages to complete on time. We worked round the clock during the final stages for three months a temporary camp with staying facility for laborer's was set up. Flat was rented nearby for integration engineers to stay and report and inspect the works regularly.
We assembled the concrete mooring blocks also in this facility. Total 45 blocks each weighing 6 tons was assembled in this yard using marine grade concrete mix from NIC. A total of 450 tons of concrete mix was used for mooring blocks and ADCP blocks in muddy areas.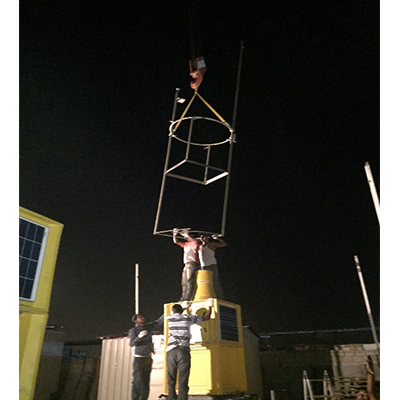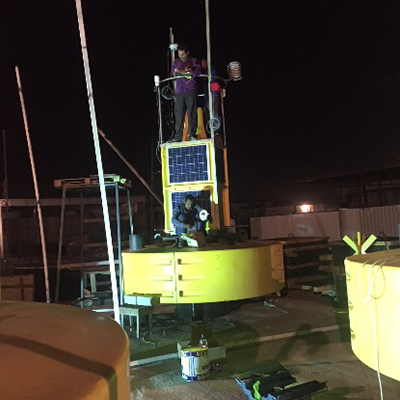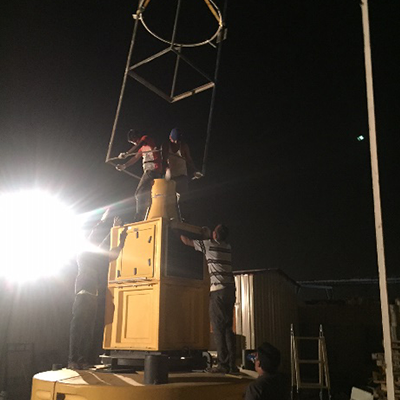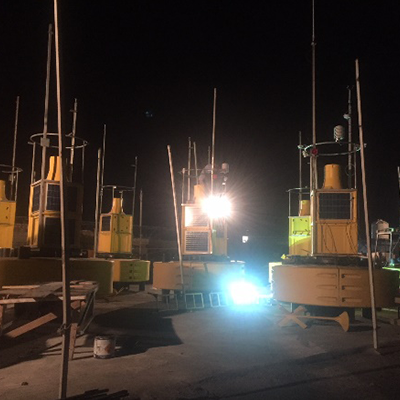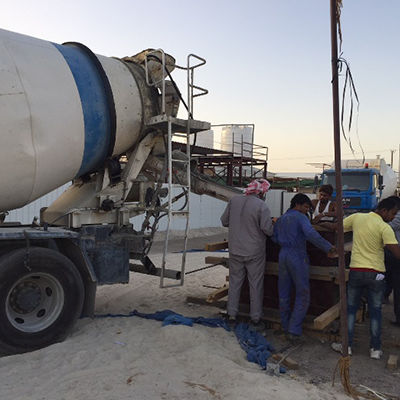 FINAL ACCEPTANCE TEST (SITE TEST AND TRAILS)

After the final assembly of buoy at Burgan ware house facility in Anghara EPA officials visited the site for final acceptance test.
A team headed by chairman of EPA chairman sheikh Abdullah Ahmad al-Humoud Al-Sabah, deputy general managers dr. Mohammed al Ahmad, eng Mohammed Al Enezi, director of marine pollution hamza Abbas Karam, technical director of EPA and various dignitaries visited tested and verified the buoy working principle, sensor configuration, data transmission –buoy inter communication etc at site. A detailed check list was prepared by the consultancy company for verification and approval. The visit termed very fruitful as the epa chairman was confident that the assembly of the system was world class and state of art technology been used. He had good words about the anti-vandalism technology and UV technology been tested for the first time in kuwait marine environment.
EPA chairman suggested checking the mooring couplers for tension verification and providing test reports to him before deployment, changes on EPA logos and safety signs was made on his request.
EPA chairman interacted with Burgan team various questions was asked doubts cleared and few suggestions from him was incorporated before the final deployment. EPA chairman congratulated Burgan team for assembling the entire system in Kuwait.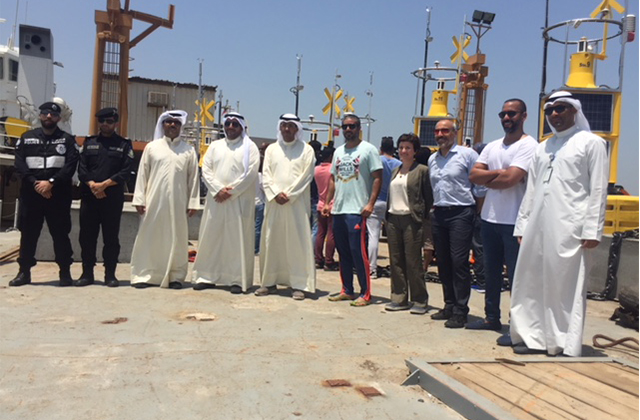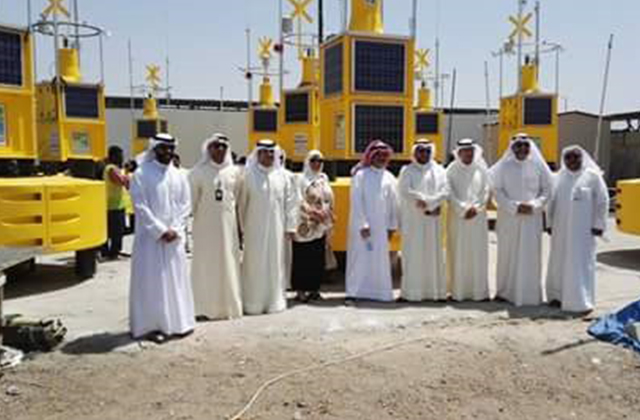 DEPLOYMENT OF BUOYS
Deployment process was officially inaugurated and launched by Sheikh Abdullah Ahmad Al Humoud Al Sabah.
Station no 9 was deployed first on checking security, travelling time and other concerns of Sheikh Humoud Al Sabah. He came on board of the barge with several high dignitaries including the ambassador of France Sheikh Hamoud al Sabah witnessed the deployment in full and stayed on the buoy for more several hours, he interacted with our team members and was very caring and supportive.
Spend time with us to make sure each and every crew are happy requested to reach the director general office directly in case of any assistance while passing border areas.
Coast guard details was passed to us on his insistence for safety while passing through certain areas night patrolling was recommended by him to coast guard.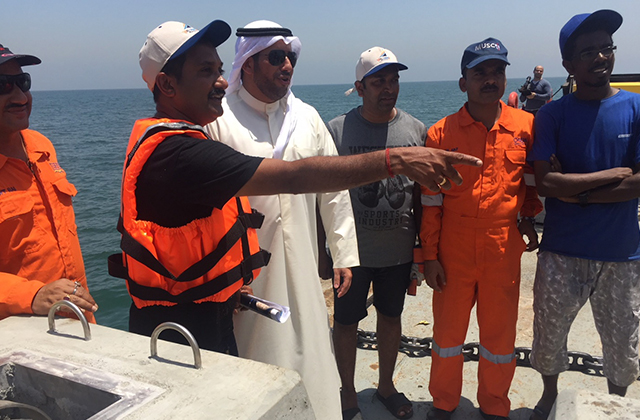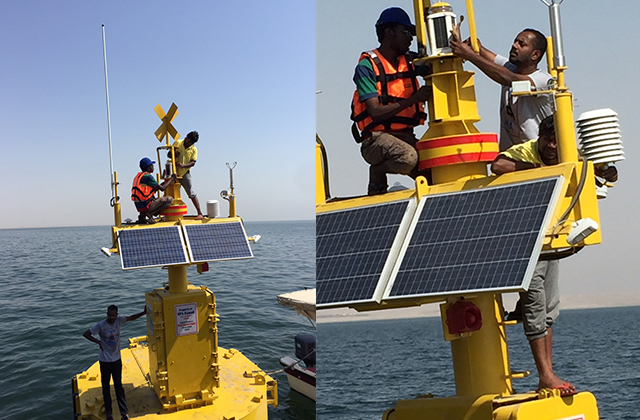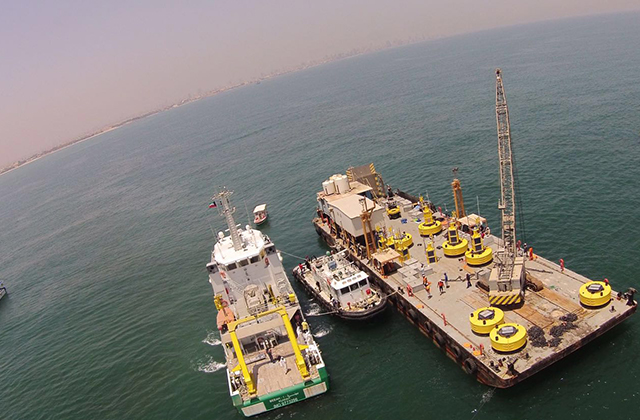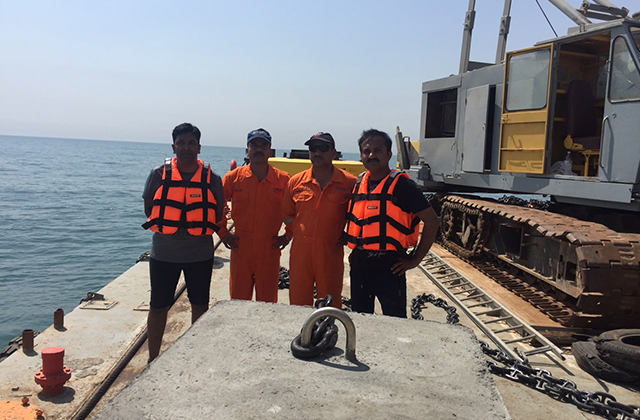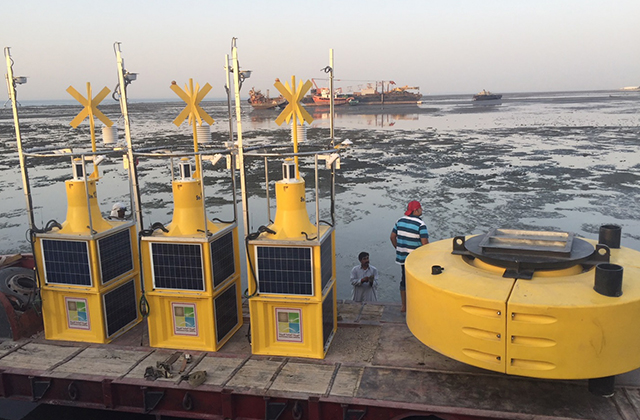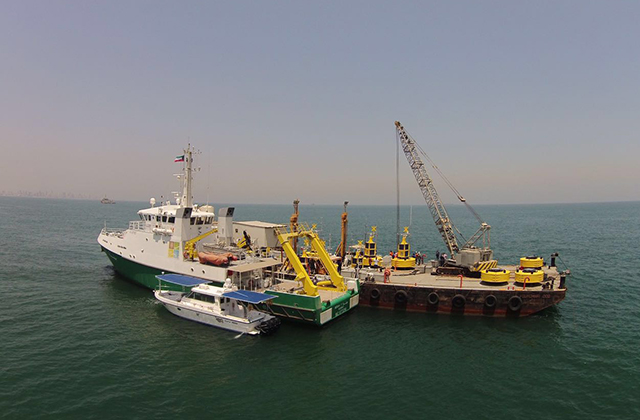 All the team members were very happy with lot of enthusiasm for his support and kind nature the deployment part was one of the toughest part the extreme climatic conditions, wind and tides changed our plans drastically we have stayed at sea for a month and more to complete the deployment barges with accommodation facility was deployed a team of 30 members including engineers, divers , surveyors , civil tech teams , marine technicians ,fitters ,welders etc. were on board for the whole process. Two tug boats ,one small boat for diver assistance, boat for shore support etc. were included. EPA and coast guard were also of good assistance
NEWS COVERAGE BY LOCAL AND INTERNATIONAL MEDIA

The project being one of biggest marine network being launched in Kuwait attracted lot of media coverage Sheikh Hamoud Al Sabah being at site to launch the project was also of great importance and was covered in large scale by local and international media
The local news channels had interviews with the team members during the commissioning process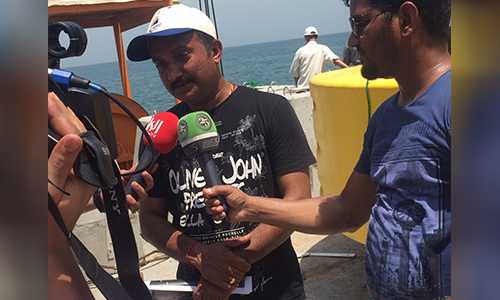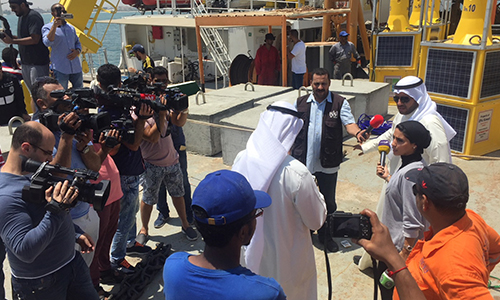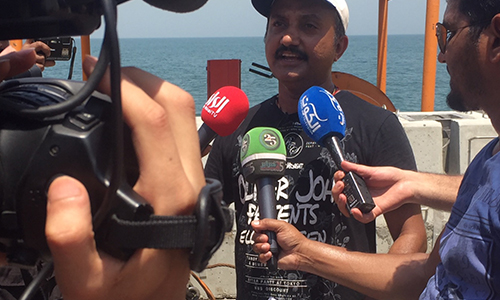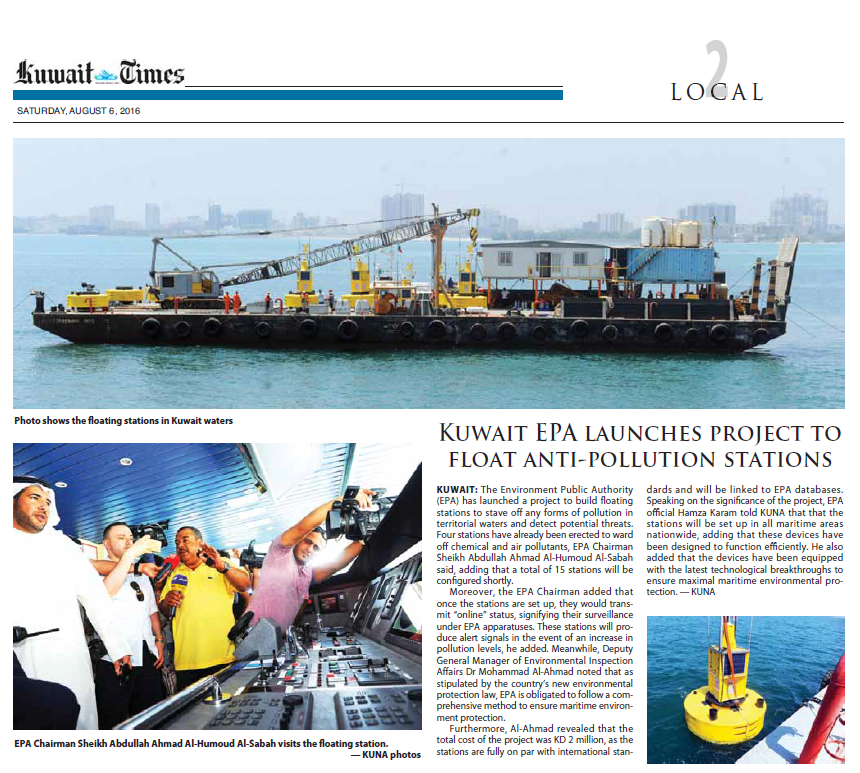 MAINTENANCE, SYSTEM UPDATES AND RUNNING PROJECT FOR THREE YEARS

Maintaining the system was the toughest job the main challenges faced during maintenances were
Vandalism-
There were several types fishermen using our buoy platform to tie their boats for fishing sometimes hitting the buoys badly while trying to tie the ropes and chain to the buoy body
Buoys near to border areas were prone to vandalism activates likes climbing buoys and taking away the cameras and sensors
This was the main challenge faced losing a lot of money on replacements and maintenance, Client being need of uninterrupted data and penalizes for data loss we had tried all our tricks using different techniques to contain it to some extent. So far managed to run the show with attending the problems as quick as possible and minimizing the data loss to the minimum.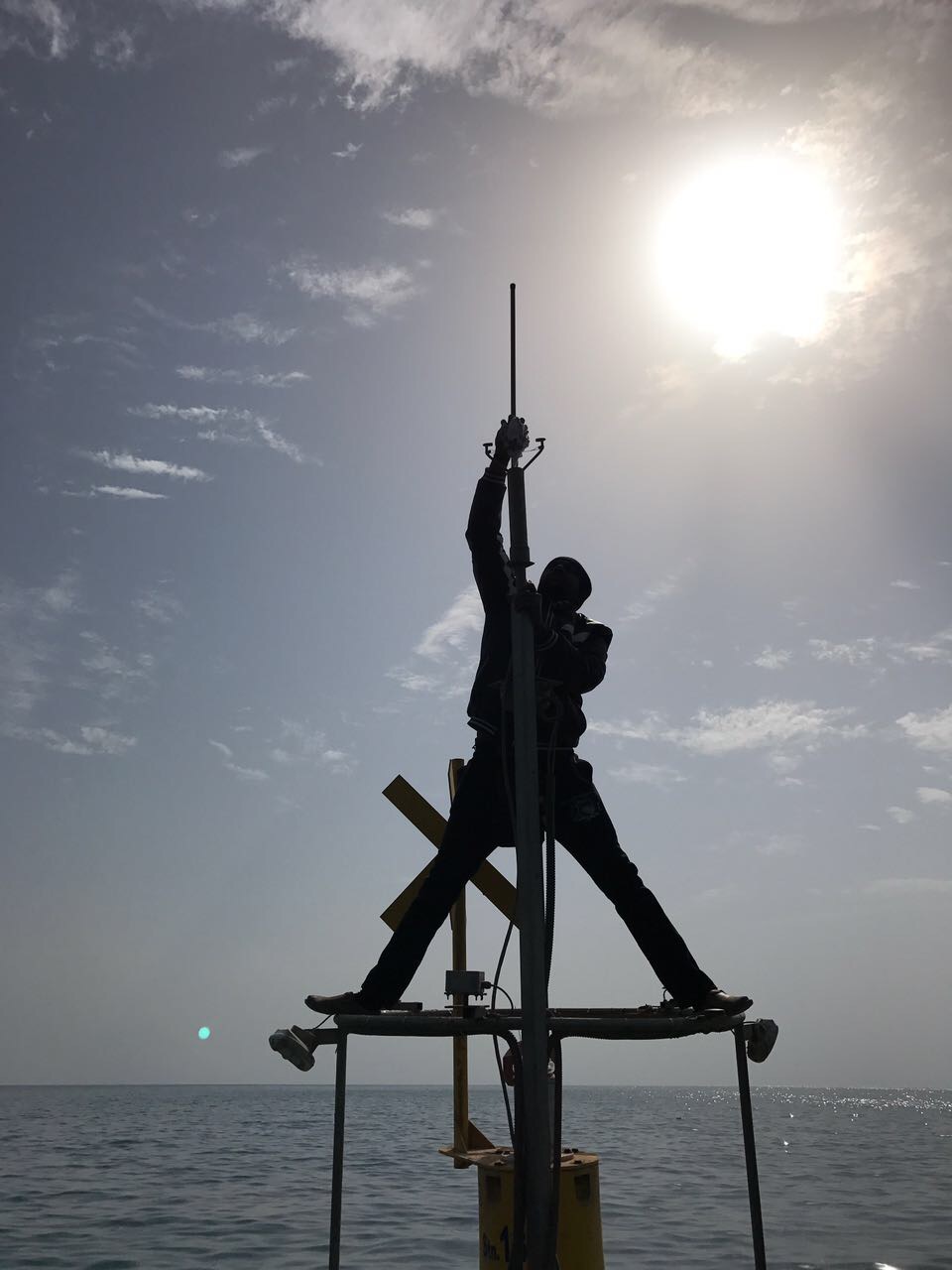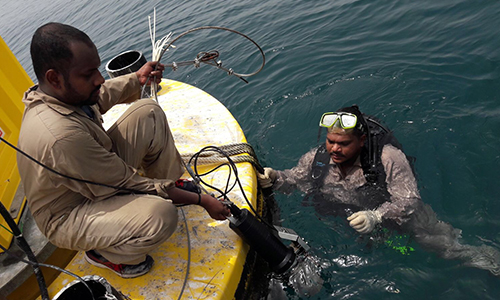 Accidents –Boat Hits
Some of the buoys being very near to channels and fishing areas we had many issues of buoys being hit hard by Boats. Crawlers and boats after fishing near to buoy and running without removing anchors caused the buoys moorings tied up to anchors and Buoys position being changed at time. Mooring chains have broken several time , efforts in replacing this is very bigger than deploying new buoys with the help of our trained marine team we have worked out well and managed all drawback with patience
Bio fouling
Kuwait sea conditions being favorable with lot of nutrients and water being not so salty biofouling is much higher in this region compared to other middle east locations. We had issues of sensor failure within 2 days after deployment We had introduced a very new technique first time in middle east UV systems which contains biofouling to a very large extend.
Along with other techniques we manage gets 2-3 weeks sensor readings with good accuracy before changing the sensors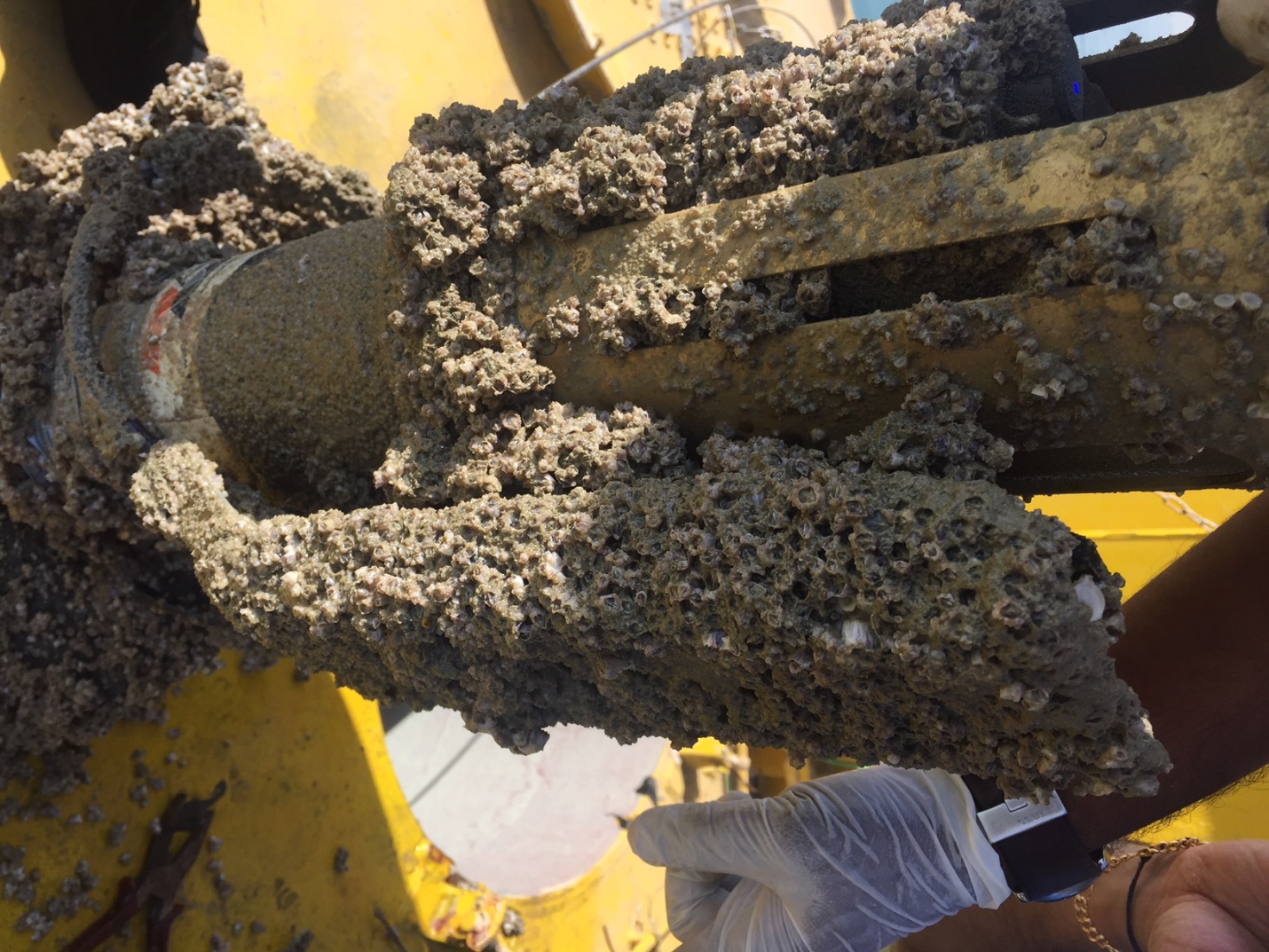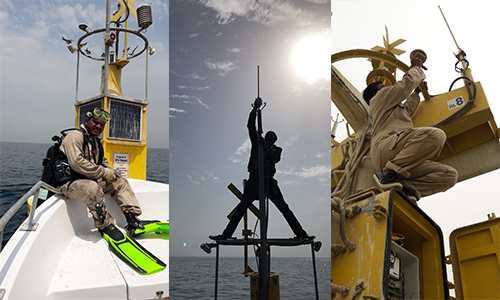 Regular and Preventive Maintenance
We had a team of experience professionals including Divers with more than 20 years' experience in Kuwait marine environment, Service Engineers with experienced back ground to maintain similar systems. 24 x 7 external monitoring by Microstep Slovakia, a team of professional tracking and monitoring the system from abroad on special contract.
Periodic preventive maintenance bi weekly helped to maintain the data accuracy to the best under tough marine conditions.
We provide with EPA documented maintenance reports , with camera shorts as proof of site visits and online update of sensor Sl No changes after swapping with new cleaned and calibrated ones.
The data provided by the systems are cross verified by external agenesis , we have managed the system as with only few remarks after 2 years of successful deployment .
Appreciation Letter from Ministry

After completing the fist phase of the project, we were appreciated by the EPA project team on successful completion of the First Phase. The phase completion letter provided is attached for review.